1. What is Leprosy ?
Leprosy is a least infectious of all other infectious disease & it primarily affects peripheral nerves & secondarily involves skin & certain other organs.
2. Who discovered Leprosy germ?
Leprosy is also known as ''Hansen's disease" because the causative agent was discovered by Dr.Gerhard Armauer Hansen.
3. What is the name of causative agent?
Causative agent is Myco bacterium Leprae
4. Why Person affected by Leprosy report late?
Skin lesions do not hurt due to loss of sensation
Lack of awareness about disease & curability
Hide the disease for the fear of stigma
5. Is it hereditary Disease?
Leprosy is not a hereditary Disease.
6. What is the mode of Transmission?
Leprosy is an airborne disease. Transmission is through droplet. Entry and exit of the bacillus is through respiratory tract.
7. Who is the source of infection?
Undetected, untreated, advanced multi bacillary person in the community is the source of infection
8. What is the incubation period for Leprosy?
Incubation Period is 2 to 5 Years. It may vary from 6 months to above 20 years also. Reason for Long Incubation Period is Slow Multiplication Time of M.Leprae (i.e. 12 to 14 days)
9. What are the Cardinal Signs of Leprosy?
Hypo-pigmented or reddish skin lesion(s) with Definite loss of sensation.

A thickened or enlarged Peripheral Nerve with loss of sensation & or weakness of the muscles supplied by the Nerve

Presence of Myco bacterium Leprae in slit skin smear
10. How to test the Sensation in Leprosy patches?
Touch the patch with ball point pen for testing sensation and don't use sharp edged tools like needle, knife etc..
11. How to classify the Leprosy?
Leprosy is classified as
PAUCI BACILLARY (PB)
One to Five Lesions
One Nerve Involvement
Skin Smear Negative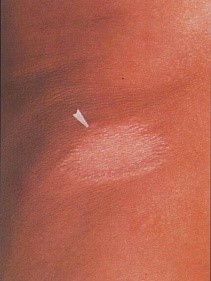 MULTI BACILLARY (MB)
More than Five Lesions / 2 or More Nerve Involvement
Skin Infiltration
Skin Nodules
Skin Smear Positive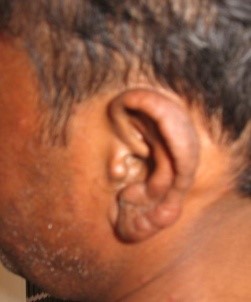 12. What is the Treatment for Leprosy?
The only effective method to reduce the burden of Leprosy in the community is to reduce the source of infection through "Multi Drug Therapy" (MDT)
For PB Leprosy two drugs are used namely,
Rifampicin
Dapsone
For MB Leprsoy three drugs are used namely,
Rifampicin
Clofazimine
Dapsone
13. Where we get the treatment for Leprosy?
Treatment and Check up for Leprosy is free of Cost at
All Government Primary Health Centres
All Government Hospitals
All Government Medical College Hospitals
All Urban Primary Health Centres
All Urban Health Posts
14. Deformities occuring in Leprosy
Deformities in Hand

Claw fingers

Total Claw

Wrist Drop

Deformities in Leg

Claw Toes

Foot Drop

Deformity in Eye

Lagopthalmus

Ulcers in Leprosy

Ulcer in Palm

Ulcer in Foot
15. Post Exposure Prophylaxis (PEP)
To reduce the occurance of Leprosy among contacts (Family, Neighbour & Social) of all under Treatment cases by giving Single Dose Rifampicin as Post Exposure Prophylaxis, thereby prevent the transmission of leprosy in the community.
16. Disability Prevention & Medical Rehabilitation (DPMR)
Supply of MCR Footwear to Needy Patients

MCR Footwear

Supply of Self Care Kit to Ulcer Patients
Reconstructive Surgery for eligible Patients for cosmetic and functional purpose
Rs 8000/- Incentive is given to patients who undergone reconstructive surgery.
Rs 1500/- disability pension is given to all patients with 40% disability and above.
Aids and Appliances are priovided to needy patients
17. NLEP Aim
Further reduction of Leprosy Prevalence in the community
A grade II disability rate of < 1 case per million Population
Zero disabilities among new child cases
Zero discrimination
18. Mile stones of NLEP
Start of NLCP with Mono Therapy : 1955
Start of NLEP with MDT : 1983
MDT coverage completed : 1991
Prevalence Rate at the start of MDT : 118 / 10000 pop.
Date of Integration : 01.08.97
Prevalence Rate at the time of Integration : 7 / 10000 Pop.
Elimination Achieved on : March, 2005
Prevalence Rate at the time of Elimination : 0.85
19. Key Messages
Leprosy Disease is like any other Disease
Leprosy Disease is Curable at all stages
Early detection prevents Disability due to leprosy
Treatment is free of cost at all Govt. Health facilities
Disabilities can be prevented
No place for segregation
"Accelerating towards Leprosy free India"
Additional Director of Medical & Rural Health Services (Leprosy)